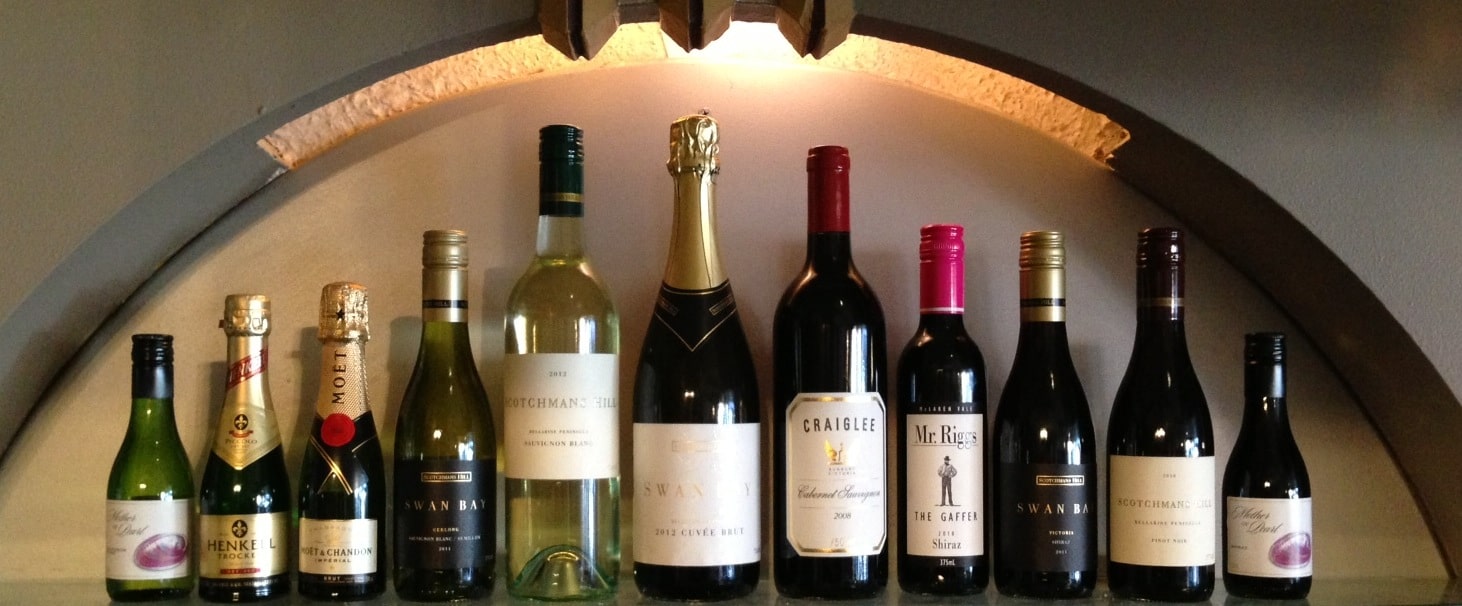 Every movie is better with a glass of wine and we pride ourselves on offering a great range in various bottle sizes. Where others pour glasses of wine, we sell wine in three bottle sizes, Piccolos (187ml), Half Bottles (375ml) and Standard 750ml bottles. We figure it's nicer, and cleaner, to take a bottle and a glass to your seat with you. It's why we built little tables between all of the seats, somewhere for your wine!
The search for good quality wine in Piccolos has been a challenge over the years, but we are very pleased to announce that as of August 2013 we now stock Mother of Pearl Shiraz and Sauvignon Blanc from Patricks of Coonawarra.
Our Half Bottle range is dominated by the wines of Scotchman's Hill and Fowles, who do some special half bottle runs just for us which is greatly appreciated, and typical of the service we've come to enjoy from these great local wineries.
In the full size bottles for whites we offer a Sparkling and a Sauvignon Blanc from the Scotchman's Hill Winery range.
When it comes to Red Wine, one of my Seven Great Passions, we take a different approach. Having been enthusiastically cellaring wine for many years now, we ensure that nothing served is less than 5 years old. Rather than have the full range in the cellar on sale, we choose a different wine to be featured and served each week. This allows us to have some fun, trying different wines and supporting many wineries. Our focus is on Victorian wines, with a particular leaning towards those in the West and North. Some others are from smaller wineries across Australia discovered on journeys to the various wine districts…. research I'm happy to do on all of your behalves – it's important work, someone has to do it. Where do we store the wine? In a climate controlled room, utilising equipment of the film era of cinema. behold!
Cheerio, please enjoy. Michael.
Look for Victorian wines from:
Scotchman's Hill, Geelong
Fowles, Avenel
Shadowfax, Werribee
Craiglee, Sunbury
Galli Estate, Rockbank
Turners Crossing, Bendigo
R L Buller, Rutherglen
Lethbridge, Geelong
Pyren, Pyrenees
And some of our interstate friends:
Torbrek, Barossa
Hungerford Hill, Hunter Valley
Patricks of Coonawarra